In this post we'll try to cover the Talktime Credit Code or Balance credit code of all leading telecom oprators including Vodafone, Airtel, BSNL, Relience, Aircel and Idea. Like you need to make an urgent call and then you come to know that you are running out of balance, What to do? Don't worry, balance credit code comes handy in such situation. Just send a free SMS to the telecom opeartor and get talktime instantly as loan.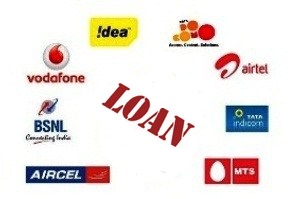 The talktime credited to your account will be deducted after 48 hours with 10%-20% extra charges. Like for Vodafone user the loan amount is Rs 10 and you have to pay Rs 12. Generally the loan amount is deducted automatically from your account after 48 hours. So, don't forget to keep sufficient balance on your prepaid account after taken the loan. Now let's see the Talktime Credit Code of Vodafone, Airtel, Aircel, iDea, BSNL
and Relience.
Talktime Credit Code Of Different Telecom Companies
Vodafone Chota Credit Code
If you are a Vodafone prepaid user and your number is 90 days old, you can easily take loan by sending a sms CREDIT to 144. You can also dial 1241from your Vodfone number to get chota credit instantly.
Airtel Talktime Credit Code
Another leading Telecom operator Airtel also provide talktime loan to its prepaid users. To get loan from Airtel you must have talktime below Rs 5. So, how to get credit from Airtel India?  You need to dial *141*10# or call 52141 to get a talktime of Rs 10. As mentioned above, the amount will be deducted automatically after 48 hours.
You Might Also Like: Top 5 Photo Editing Apps For Phone
Idea Loan Code Or Idea Credit Code
Prepaid users of Idea can also avail loan by dialing Idea Loan Number or code. You need to dial *150*10# to get talktime of Rs 10. Remember, only 90 days old Idea Prepaid users with less than talktime of Rs 2 can avail this offer. Apart from Rs 10, Idea users can also take loan of Rs 5 and Rs 4. Dial  *165*5# for Rs 5 loan and dial *444# for Rs 4 loan.
Aircel Talktime Credit Code
Aircel prepaid users with balace below Rs 10 can take loan by dialing *414# or 12880 or by sending a SMS LOAN to 55414. Aircel will charge Rs 2 extra for this credit facility.
BSNL Loan Code
Bharat Sanchar Nigam Limited ( BSNL) also provide credit facility to its user. You need to send a message from your BSNL mobile. Just SMS CREDIT to 53738 to get RS 10. If you recharge within 24 hours only RS 10 will be deduct, after that Rs 11 will be deducted from your prepaid balance.
Reliance Balance Credit Code
As a Reliance customer, you can also avail loan facility easily. Reliance GSM customer can take loan of Rs 5 or Rs 10. Dial Reliance Loan Number *141# or send SMS YCR to 51234 to avail this facility.
Telecom providers change their talktime credit code periodically. All the loan codes we mentioned above are latest and updated. if any of the codes does not work for you let us know through our comment section. Thanks for reading. You can share also these balance credit codes or loan codes with your friends and family.