An app is like a precious jewel to your mobile that adds shine to it. Without it, our device would be like a pale moon, and so the apps are a must. Sometimes we don't pay attention towards choosing the apps, but as soon as our mind devotes towards it, prong arises in our path. We always find us in a state of the dilemma about our choice. The fight between the best and the worst goes on till we arrive at the best one. The very same concept is not only limited to the apps, but it can be applied to all our daily needs, and there I will always be present, but here in this article, I will focus and look into the world of apps.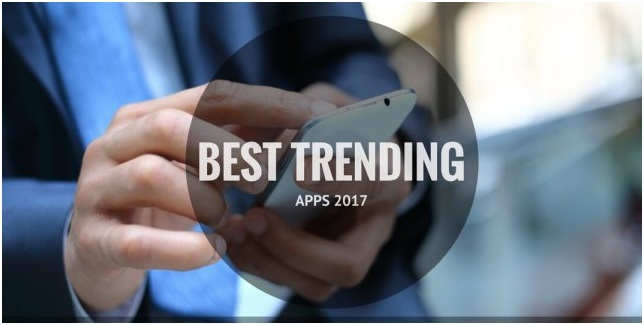 The category of an app is not confined to a particular category it has far much more beyond the reach. Whatever thing we are thinking of an app is present for that particular thinking. Well, hat off to the prodigy minds of the developer who thinks in such a vast and enthusiastic way. Now, without wasting your time let us move on with the countdown. So let's fly and explore the imaginative world of the apps.
Top 8 Trending Apps Of 2017
MY FITNESS PAL: – Worried about your health? Worried at the increasing size of your body? Now kick off all your worries and download the My Fitness Pal app where you can keep a track record of all your exercises and the diet which you are following during your healthy course. Not only the record, but it also let you know about the healthy exercises and food that you must follow to keep your body in shape. It will not give you the whole workout technique but will update you with your habits. So, download this app and feel the difference.
Download here MY FITNESS PAL
WUNDERLIST: – In the world of beautiful and decorative apps where you can perform as much work from your app this Wunderlist app is the prettiest one. It is well embedded with the list of all your favorite TV shows, movies, and groceries which you can also share with your friends and family members. Now just sit at your home and place your order for the groceries and your item will be delivered within an interval of time. So, download and enjoy the warming nature of your home.
Download here WANDERLUST
PAYTM: – Whatever praise you do for this app is low when talking about its advanced features offered by it. The company which was started with a recharging business now expanded its feet in other business aspects is far more than appreciable. It became the first startup company to have a tie up with Alibaba. Other business aspects include the booking of rail, air or movie tickets, payment of various types of bills and much more. It lays down many offers before the user to attract a number of people towards it.
Download here PAYTM
AWESUMMLY: – Are you tired of reading the full stack news and want it in a brief manner. If yes, then you are in the right place as this app will definitely give a boost towards the solving of your problem. Simply download this app and read the news in a much smarter manner compare to your old fashion of reading the complete sort of news from the newspaper. In simple words I can say that forget about your newspaper and read the news from this awesome app and believe me it will not break your promise. Download and let the news also enjoy with shorts. You can also read short news from their website.
Download Awesummly short news app
COMIXOLOGY COMICS: – Remember those days when we used to watch our favorite superheroes jumping from the enormous heights and flying with the supersonic sped to save the people. Simply remembering those days generates a childish feeling within us and sometimes we don't want that sweet feeling to go away. So, if you want this download the app from the store and jump into the same childhood days.
Download here COMIXOLOGY COMICS
ESPN: – You all are aware of this sports channel but you know there is an app for it. If you have missed any of your favorite sports then go into the app search for that particular stuff and watch with a full speed internet connection. So, download this app and update you with all the current and the past happenings in the world of sports.

Download here ESPN
POCKET: – When we hear the word pocket a thought of free space arises in our mind where we can keep all our small but important stuff. However, when talking about the technical aspect it, is far much beyond our thinking. This app is used to store all our articles or the daily notes which we have prepared during the time. Not only the articles it saves our images and videos which we can enjoy later with a good company of popcorn.
Download here POCKET
AVAST MOBILE SECURITY AND ANTIVIRUS: – Avast has a dozen of advanced antivirus features that will protect your device from the external malware in any condition and at any cost. It frees up the RAM and thus increases the performance of our device. With the most advanced gaming feature, it gives you the real gaming experience.
Download here AVAST MOBILE SECURITY AND ANTIVIRUS
What do you think about these apps? Let us know about it in the comment section below.
You Might Also like: Download Avast Antivirus APK Latest For Android