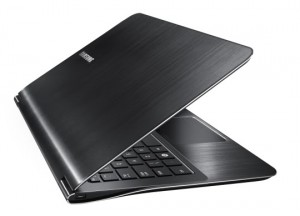 Samsung Electronics Co Ltd introduced the new 9 series an ultra slim,lightweight notebook.It is somewhat similar to Apple's macbook air.Not only samsung most of the laptop manufacturing companies planning to launch sleek laptop in market.So we can see a good competion in coming days.
For the first time samsung use a material known Duralumin in 9 series, which is generally used in advanced aircraft. This material is the reason behind this lightweight.
Features–
¤ 13.3-inch HD LED-backlit SuperBright Plus display
¤ Automaticaaly adjust the display brightness based on surrounding lighting conditions and reduces user eye strain.
¤ Second Generation Intel® CoreTM i5 Processor 2537M (1.40 GHz, 3MB; turbo up to 2.3 GHz)
¤ Lithium polymer batteries,that gives backup upto 6.5 hours.
¤ Genuine Windows® 7 Home Premium (64 bit) / Windows® 7 Professional (64 bit)
¤ Samsung 9 series comes with USB 3.0 and bluetooth 3.0
¤ 128GB Solid State Drive (SSD)
¤ Intel HD GT2 Integrated Graphics
¤ 1.5 watt speaker with sub woofer
¤ 4GB DDR3 RAM
¤ Built in WiMax
¤ Weight is just 1.31 kg
Price
Samsung 9 series will cost around $1599 for Wi- Fi + Window 7 premium edition and $1699 for the Wi- max + window 7 professional edition.