Today, more and more people are turning to podcasts to widen their reach. While some folks use podcasts for marketing products, others use them for broadcasting interviews. No matter the reason, you ought to have an ideal audio interface for podcasting. However, some folks do not pay much heed to the audio interface when getting started. Majority of these people witness a huge failure. If you don't wish to be among these individuals, find out why you need an audio interface and how to pick the right one.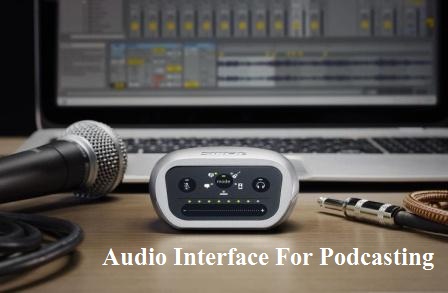 What Is An Audio Interface?
It is a hardware tool that manages the inputs, sound processing as well as outputs of the audio equipment. The interface converts acoustic sounds. For instance, it takes the analogue signal from your microphone and transforms it into a digital signal that your computer system reads and processes.
Why do you need an interface?
Microphones as well as other audio equipment mostly use XLR inputs. Such devices need audio interfaces for converting the signal. Almost all computers come with a sound card. However, they are not well-equipped for performing high-demanding sound processing from the audio equipment.
For example, higher quality microphones need more power to covert the signals and power them up to line level. This is actually the correct volume level, commonly called as phantom power. It is essentially a way of offering your equipment adequate power to function. All audio interfaces have this tool. So it is just a matter of pressing a button to enable it for your devices to get going with recording and converting signals.
What to Look For When Buying An Audio Interface?
If you are just starting out with podcasting, you may not know what types of things you should look out when buying the interface. It is essential to get familiar with tips on choosing the right interface. Here is a checklist of things to watch out.
Mic Inputs
For live sound for recording or creating a podcast as a team, you should consider the number of inputs the audio interface will require. On the other hand, a single input will be enough if you are going to record solos and tracks. In case you are limited by audio inputs, you can get started with recording using tracks. As well as allowing you to figure out how sound flows, it will let you compose the episode and rearrange the audio for a much better sounding podcast.
Phantom Supply
As stated earlier, phantom power is a way of powering the audio equipment. You certainly need phantom power if you are opting for condenser microphones. While many audio interfaces come with this functionality, it is better to watch out and be informed.
Outputs
Interfaces include at least one stereo output for connecting monitors and listening to the audio being played. If you need outputs for multiple systems to reference your production, you will have to select an interface with the required number. Note this point when checking interfaces for podcasting.
Connectivity
Obviously, you need connections to connect interface and other equipment when creating a podcast. Here, you have multiple choices for connectivity, and this includes FireWire 800, FireWire 400, thunderbolt and USB 3.0. However, USB 3.0 and thunderbolt are the preferred choices of many professionals. If your computer system supports Thunderbolt or USB 3.0, look for interfaces that come with this type of connectivity.
Pricing
Of course, you don't wish to get ripped off on owning an audio interface. So take time to check out the prices of multiple brands to make an affordable choice. You can find interfaces with economical price tags as well as those that come with a bigger price. Try to make a balance between quality and pricing in order to get the best interface well within your budget.
Bottom Line
A good quality podcast audio interface is imperative to producing amazing sounds. Although any interface will let you create sound, you need to pick the best one in accordance with your needs and system. Just check out the above advice on picking an ideal interface for getting started with podcasting. With the right interface by your side, you are sure to make some of the best podcasts for your targeted audience.