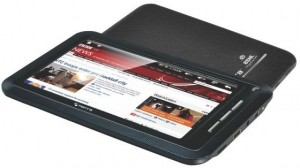 Finally rival of Akash tablet is here.BSNL(Bharat Sanchar Nigam Ltd) announced the launch of three tablets in collaboration with the Panel Technologies.Price for the basic model, the penta T-pad IS701R is Rs. 3,250 which is very cheap.The other two tablets which come with 7 inch and 8 inch display, are priced at Rs. 10,999 and Rs. 13,500 respectively.
The penta T-Pad IS701R, which is the cheapest among three will come with a BSNL 2G sim card and 3 moths of free data download.According pantel if a customer uses the special Penta 2G data plan for 12 months, he/she can recover the entire cost of the tablet.
All the tablets will be available on market from 1St March.But if you are from India, then you can order your BSNL tablet online and the same will delivered to your door step and the most beautiful thing is you can pay by cash on delivery.
How to Preorder BSNL Tablet Online
Ordering BSNL tablet is so simple.Just login to www.pantel.in and fillup a simple form.Here I attached the direct links of each BSNL tablet to make it easy for you place the preorder.Before placing the order, just chose which one you would like to buy or comes under your budget.