Search engine optimization is the holy grail of the digital marketing industry. It is the most crucial aspect of achieving online reach, yet at times it becomes a tad bit challenging altogether. Partnering with an SEO service is the need of the hour today. Be it an eCommerce store or a digital agency, SEO is something that everyone requires.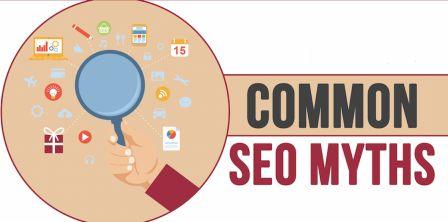 Having so much to grasp about search engine optimization, it is natural to encounter some misconceptions that spread like wildfire. Yes, we are talking about SEO myths that are still making rounds in the market. Today, it has become challenging to differentiate truth from myths because, in the digital era, it is so damn easy to spread the word, right?
Looking for an SEO service agency, and you probably have heard some of the strangest myths about it. One of the weakest points, when we start believing in the myths, is when we are just learning about SEO. That's when these myths start to take hold of your knowledge.
Not anymore. We are here to debunk those bizarrely common SEO service myths that you have probably believed at least once.
So, let's get the debunking done.
#1 The Google Sandbox
It is believed that Google automatically suppresses new websites during organic search results for a certain period of time. It is the most arguable myth that many SEOs would know. But clearly, it's not the case. There's no Google sandbox that can suppress a website from the organic ranking. Be it new or old, Google does not restrict a site from ranking. However, there is a time period when Google understands the pages of a new site for ranking. That's definitely not a sandbox.
#2 Duplicate Content Penalty
This is probably the most heard myth: Google penalizes you for copying content from a different site and putting it up for ranking. Well, no matter how unethical it is, Google cannot penalize a site or its owner. There are two outcomes, either there will be a manual action or algorithmic suppression. Manual action happens when the site owner is notified regarding plagiarism, and algorithmic suppression is when your site is taken down from the index.
#3 PPC Ads Boosts Ranking
An "oh-so-common" myth that is super easy to debunk is that PPC ads help in your site rankings. First, it is important to understand the PPC campaign definition. PPC stands for pay-per-click, an online advertising system in which advertisers pay for one of their online ads each time a customer clicks on it. The best thing is that your organic search results do not get affected by the PPC ad placements. Google will not favour sites with PPC ads in organic searches.
Carrying out search engine optimization along with a PPC campaign will benefit your site in many ways. However, it cannot directly boost your ranking overnight.
The Bottom Line
Search engine optimization is an ever-evolving domain. With Google constantly remodelling its SEO guidelines, it is easier to believe the popular misconceptions. However, it is important to get your facts straight right from the foundation.
That's why here we have proved some myths wrong for you. So, next time when someone tells you a myth regarding an SEO service, you know when to drop the mic!