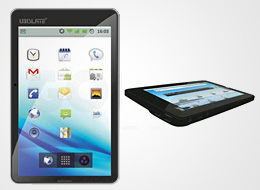 World's cheapest tablet Aakash is now available to rock Indian market.So,if you are from India, then you can order your Aakash tabet online and the same will delivered to your door step within a week. Customer ordering Aakash Tablet can pay by cash on  delivery  method and its price is just Rs 2500/- .
How to order Aakash Tablet online
Ordering Aakash tablet online is so simple.Just login to http://www.aakashtablet.com fill up a simple form. After filling up the order form you will get your Aakash within 10-15 days depending upon your location.
Another upgraded version of Aakash tablet Ubislate 7 will be available by the end of January at prce tag of Rs 2999.Ubislate 7 has both Wi-fi and GPRS connectivity option where old Aakash only has wi-fi option. Ubislate 7 also has a better battery and processor as compared to current version.